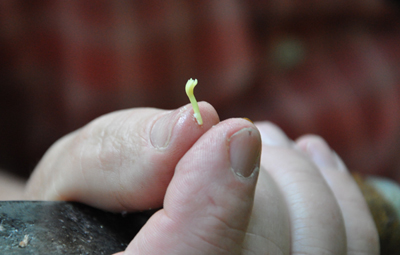 It's a little-known fact that the Christmas tree, which every year continues to be at the heart of the family gathering at Christmas, started its journey somewhere completely different, in a place that's in no way an example of warmth and comfort. Your Christmas tree begins its wonderful journey as a cone picked at a height of 30 metres by tough and brave Georgian cone pickers, in the poorest country in Europe – Georgia – high up in the mountains in the rugged Ambrolauri-Tlugi region.
Afterwards, the cones are processed to remove the seeds which then travel to Denmark and other European countries. Every single seed starts its life here among thousands of others. The seeds grow into small plants sprouting up from the soil, and within seven years they become full-grown Christmas trees.
When you buy a Fair Trees Christmas tree, there's a small, elegant Fair Trees label attached to it. This is a sign that your tree has undergone a journey during which it has been handled in a special way, from the time when it was a tiny seed up until the day it is ready to be decorated in your living room. That 'special way' is the story of Fair Trade, ensuring that the people whose hands the seed and the tree have passed through work under decent conditions and at fair wages. You can relax in the knowledge that no-one has been abused or exploited on the way to your traditional Christmas enjoyment!